Fresh Faces: Newcomer Trinity Haggard Rides TRR Roan Lil Playgun to NSHA Futurity Victory
Posted on August 28, 2018 by Molly Montag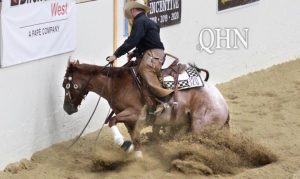 The ink on Trinity Haggard's college diploma was barely dry when he moved from Texas to California three months ago to work for cow horse trainer Ken Wold. It was an exciting opportunity for the Texan, and Haggard didn't make the journey alone.
The 2018 Texas Tech animal science grad went to the Golden State with his 2-year-old gelding, TRR Roan Lil Playgun, who he'd been working with for several months. He always liked the gelded son of Pepcid, and was rewarded when the horse won National Stock Horse Association (NSHA) Futurity Level 1 Limited Open Championship.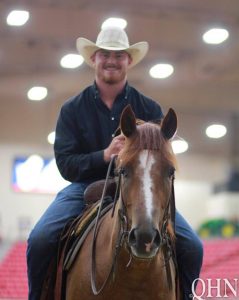 Their composite of 641 (211 herd/216 rein/214 cow) also earned the Limited Open Reserve Championship, resulting in a cool $1,540 for Haggard, who now lives in Wilton, California.
"This is my first futurity colt, so I was pretty happy with him," Haggard said. "Lots of places we can improve, so I think going forward [I'm] pretty excited about going to Fort Worth."
This was the gelding's third show, but his second at the South Point. Haggard and the horse made their debut together in July at The Celebration American Quarter Horse Association show at the Nevada facility, and later got more practice in Corning, California.
"He was really good in working the cow on the end and he really tried hard in his fence turns — really hustled and gave me everything he had and made the most out of our cows," Haggard said after the NSHA Futurity cow work.
Working for Equi-Stat Elite $1 Million Rider Ken Wold has been a great opportunity said Haggard, noting he already feels like part of the family.
"[Wold's] a really good teacher. He's got great horses," Haggard said. "He wants me to be successful and succeed, and they're great people."
Bred by Tongue River Ranch, in Paducah, Texas, TRR Roan Lil Playgun is a son of the mare TRR Playguns Showgirl, a daughter of TRR Big Iron out of Tanquerys Showgirl (by Tanquery Gin). The gelding is the first earner on her Equi-Stat produce record.
Haggard grew up on a 50,000-acre ranch near Throckmorton, Texas, but wasn't introduced to reined cow horse until he joined the Texas Tech Ranch Horse Team.
"We have about 30 broodmares, a couple studs," he said of his family's operation. "Calf roped and team roped growing up, always was training on horses, but I never was really doing anything like this until I got to college."
He liked the versatility and athleticism the three-event discipline requires of horses, and decided he wanted to be a cow horse trainer after watching California trainer Clayton Edsall win the World's Greatest Horseman competition in Fort Worth, Texas.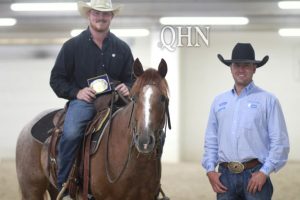 At the urging of friends, Trinity Haggard, left, and Clayton Edsall, right, took a photo together after Haggard's win in the NSHA Futurity Level 1 Limited Open aboard TRR Roan Lil Playgun. Haggard, a recent college graduate, decided to become a cow horse trainer after watching Edsall win the World's Greatest • Photos by Molly Montag.