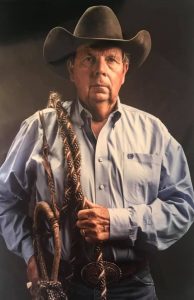 NRCHA Hall of Fame rider and World Champion, Ken Wold teaches how to ride smart.
Ken Wold Training Stables (KWTS) has been thriving since 1970. Their program consists primarily of developing and showing the Reined Cow Horse with the primary focus on showing Reined Cow Horses at the National Reined Cow Horse Premier Events.
With an emphasis in preparing National Reined Cow Horse prospects for the Snaffle Bit futurity, as well as the NRCHA aged events, Ken has been know to have finalist at every national event, including the NCHA Futurity/Derbies, NRHA Futurity/Derbies, & the AQHA World Shows.
Today you will find Ken Wold at every NRCHA Major event. Ken Wold Training Stables has a philosophy of "Programs" and that every horse has an avenue in which they may find success. The final stage of their program is the Bridle Program in which horses have progressed through the four previous phases and become the ultimate goal, a finished bridle horse. This process and program take many years and a successful program takes time, dedication and commitment to each phase of the program.
Starting with a solid foundation and building one step at a time until the horse creates a fully trained horse that can show or be ridden for years. Ken trains every horse as an individual. He maximizes their strengths and minimizes their weaknesses, building future Champions!
Ken and Ramona are very proud of The Ken Wold Training Stables program in which consists of the 6 phases listed below beginning at the very first level of development to the advance progression.
Ken Wold Training PHILOSOPHY
Ken Wold 6-step program:
1. Breeding
2. Two Year Old / Starting Program
3. Snaffle Bit / Futurity Program
4. Hackamore Program
5. Two Rein Program
6. Bridle
Wold BREEDING program:
The foundation of the Wold Breeding program begins before conception.
Ken consults most of his "breeding" cliental as to which stallion would be a great cross onto their mares. The breeding program at Ken Wold Training Stables is the basis for which all success begins. Ken and Ramona breed many of their own mares to quality stallions throughout the Nation. They also travel and research extensively throughout the nation for potential prospects.
Quality breeding for prospective Reined Cow Horse Champions is crucial to a successful program. We are always looking for the "magic cross" of stallion to mare. They embryo some of their mares to different stallions each year to gain more offspring and a greater chance of creating that "special" foal! "The horse that could win the futurity".
Wold TWO year old / STARTING program
They progress to the next step of their program with the foundation of development of horses early in their two year old year. Most of the horses are started in January and February of the horses two year old year. Since each horse is an individual each horse is started and progresses within its individual time frame. From ground work, to the round pen and off to the large arena begin the two year old program.
Within a short period of time their two year olds are loping circles in the large outdoor arena, working cattle as well as outside trail riding in the hills and creeks in the neighboring 300 acres. They are extremely proud of their two year old program at Ken Wold training Stables. Their two year olds progress into the next level of training with the necessary fundamentals and the utmost confidence.
Not every horse fits every program, (i.e. Cutting, Reining, Cow Horse, etc) that is why we, at Ken Wold Training Stables, feel that each horse in their two year old program should get broke well enough to progress to the next level of training, weather that be Working Cow Horse, Cutting, Reining, Roping or simply trail riding.
On a personal level, the two year old year is one of Ken's favorites. He loves challenging the colts/fillies physically and mentally, and loves the outcome when they discover success.
Wold FUTURITY / SNAFFLE BIT program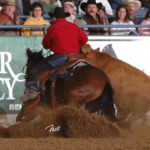 The futurity program's primary focus, at Ken Wold Training Stables, is the National Reined Cow Horse Snaffle Bit Futurity. Although in the past, Ken has trained champions for the National Reining Horse Association futurities and the National Cutting Horse Futurities.
To get to this point of Ken's program the horses have been through nearly two years of training. They have been hauled to practice shows and "pre works" to make sure their readiness for the World Championship Show. Currently, the NRCHA World Championship Snaffle Bit Futurity is held in Reno, NV in the later part of September each year. Prior to the World Championship show Ken generally shows his futurity horses at American Quarter Horse Shows and smaller Futurities throughout the western United States.
Ken's philosophy to a successful futurity year is preparation, preparation and again, preparation. Vince Lombardi said: "The willingness to win is not nearly as important as the willingness to PREPARE to win". Ken holds close to this line of thinking, due to his feeling that the futurity year is the BEGINNING of a horses' career in the show pen. At times this feeling is lost when there is too much emphasis on the Futurity shows. Not all horses are mentally or physically mature enough to "handle" the futurity year, and that is ok in Ken's program. This does not mean they won't be successful as aged event horses in the show pen.
Wold HACKAMORE program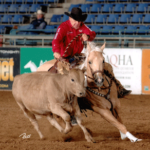 The Hackamore Program is applied in the horses four and five-year old horses. These years are an extremely important part of transition between the snaffle bit and bridling training of the horses' progression and training program. Ken has been very successful at the prestigious NRCHA Hackamore Classic.
Not all horses are natural hackamore horses, but in the process of training at Ken Wold Training Stables, all of our aged horses are broke in the hackamore. This important progression in training is crucial to the transition to the bridle phase of the horses training process.
For the most part the hackamores that Ken uses to show and train come from either Louis Ortega or Don Brown. These great braidsmen are leaders in the industry and create bosals which fit a horse properly and are sensitive to pressure points unique to a horses' specific anatomy. Not only are these men great braidsmen but horseman as well. It makes a difference, in Ken's opinion, when an individual creates a product that they also use on a daily basis to those that just make a product.
Wold TWO REIN program
The next to the last stage of the Ken Wold Training Stables program is the transition between the Hackamore and Bridle year. This is the Two Rein. Generally, most Two Reined horses are shown in their 6-year-old year. This transition year is a crucial one to the finishing of a true bridle horse. Even as a horse is being shown in the bridle, Ken will usually continue to train his bridle horses in the two rein for complete development.
Wold BRIDLE program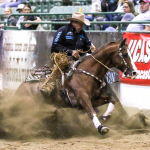 The final stage of the Ken Wold Training Stables program is the Bridle Program. A finished bridle horse takes time and patience. Ken loves the accomplishment of the final outcome of horses that complete his program. His bridle horses are supple and confident and are successful individuals in and out of the show pen.