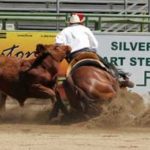 Ken Wold has been active as a member of the National Reined Cow Horse Association Board for the past 30 years, serving two terms as President. He has traveled all over the world giving clinics for cutting and reined cow horse owners and trainers in Chili, Canada and Italy.
Ken has made a lasting impression as a horseman within the NRCHA and the American Quarter Horse Association. He is an AQHA Professional Horseman, finalist and money earner in the National Reining Horse Association and National Cutting Horse Association, was the 1998 NRCHA Snaffle Bit Futurity Open Hackamore Champion with $388,434 in lifetime NRCHA earnings.
Ken Wold HORSE TRAINING
Ken Wold COACHING
Ken Wold Training Stables offers a comprehensive training program tailor made to suit your needs. It is our desire to help you and your horse compete at the level you are comfortable with. Ken takes the time to establish a solid communication base with his clients He is able to effectively convey instruction and build confidence. Ken seeks to develop riders who are able to identify and react to situations on their own and encourages an open dialog with his students.
His philosophy is that it is this synergistic relationship between horse and rider that ultimately pays off in the show pen. He works to make each team self-sufficient and confident in their acquired skills to handle any problems that might arise in the show pen, or when working on their own.
Ken Wold OUTSIDE HORSES
In addition to competing at premier events, Ken is devoted to his training program. He accepts a small number of outside training horses. Specializing in futurity, derby, aged event and non pro horses, Ken is dedicated to success and trains to win. Your horse will receive the highest level of care. With training assistants on hand, Ken Wold Training Stables not only makes sure your horse is fit, but also works with an amazing veterinarian and farrier that is available for every need.