Jule Of A Time Sparkles For Wold In Reno Snaffle Bit Futurity
September 19, 2018 by Molly Montag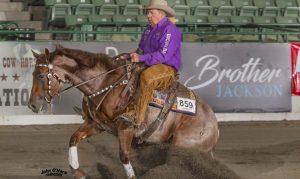 There are good surprises and bad surprises. Trainer Ken Wold finding out owner Daniel Perez bought Jule Of A Time without telling him? That was a great surprise.
"When I saw it I went, 'This is a good-looking son of a buck!'" Wold said.
The beautiful red roan filly – the first winner by Hickory Holly Time, the 2018 World's Greatest Horseman Champion — turned into a very talented cow horse, and on Sunday, Sept. 16, she and Wold won the Reno Snaffle Bit Futurity Intermediate Open Championship. They marked a winning composite of 646.5 (214 herd/216.5 rein/216 cow).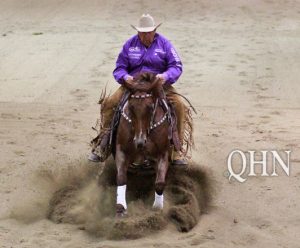 "She is absolutely one of the nicest horses I've ever trained as far as kindness, relaxed, personality, stops big — and, she's been that way since day one," Wold effused after the event.
Perez added, "A show horse."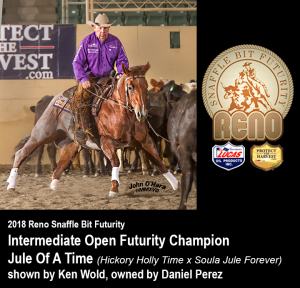 The Reno Snaffle Bit Futurity Championship was a bit of redemption for Jule Of A Time, who Wold had showed at last month's National Stock Horse Association (NSHA) Futurity in Las Vegas, Nevada. The mare was knocked out of contention by a subpar herd work score, an effort that Wold said was his fault, not hers.
Afterward, he told Perez as much and urged the owner to enter the mare in Reno.
"I didn't have it right in the cutting [in Las Vegas]. I was trying to do some things that didn't fit the mare, and my whole program is the program fits the horse, not me," Wold explained. "I told him immediately, 'Enter this one [in Reno]. I think I know what to do and I want to make sure before we go to [the National Reined Cow Horse Association Snaffle Bit Futurity in] Fort Worth."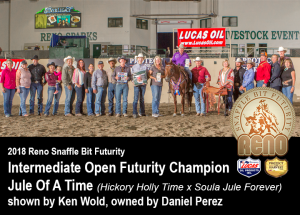 The mare's score in Reno also earned her $26,000 for Perez, of Westley, California.

Jule Of A Time is the first futurity champion from the limited first foal crop of Hickory Holly Time, a red roan stallion who has amassed $231,020 in lifetime earnings. Owned by DT Horses, the 2010 son of One Time Pepto out of Hickorys Holly Cee (by Doc's Hickory) stands at Oswood Stallion Station, in Weatherford, Texas."I want to promote the stallions in the reined cow horse association: Hickory Holly Time, Brother Jackson, One Time Vintage, Smart Boons, that kind of stuff," said Perez, who owns $138,898-earner Brother Jackson. "I think those can compete with any other stallions around."
Jule Of A Time is one of six Hickory Holly Time foals born in 2015 that are registered with the American Quarter Horse Association (AQHA). The stallion has 44 AQHA-registered foals in his 2016 crop, and another 95 in his 2017 crop, according to the breed association's records.
Dean Tuftin, of DT Horses, said the team is thrilled for Jule Of A Time's success and excited about the stallion's future crops. In addition to breeding larger numbers, the popular stallion has been bred to better and better mares each year, he said.
"People just fall in love with him as an individual and the more you're around him and the more you get to know him, the more you find out how special he truly is," he said.