It has been another busy year for the Wold's. Ken had another spectacular 2018 show season. He attended every major National Reined Cow Horse event this year.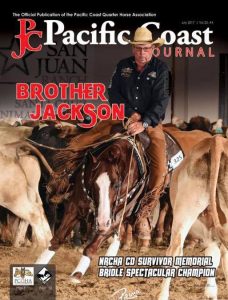 Ken's futurity season was beyond awesome. He kicked off the NSHA Futurity in Las Vegas with a huge win in the Intermediate Open Futurity on Real Smooth Liz (Real Smooth Cat x Turn Liz Loose by Doc's Hickory). This was an extra special win because it was a filly we raised.
After that big win we came home for a couple weeks and then off to the Reno Snaffle Bit Futurity with another win in the Int. Open Futurity – this time on a tremendous filly named Jule Of A Time. Ken was actually set to win the Open on another futurity horse named Wright On Forever but going down the fence in the finals the horse slipped, and he and Kenny fell. Ken was sore after the fall but wasn't hurt too seriously.
We took all the babies to the NRCHA World Championship in Texas soon after we got home from the Reno Futurity. We spent nearly three weeks in Fort Worth at the futurity and our futurity luck wasn't what we'd have liked but our bridle horse – Brother Jackson, did extremely well. Even though Ken wasn't lucky enough to be one of the finalists at the Fort Worth Futurity he still was a part of the ceremony by giving the opening prayer. Ken also was the MC at the Hall of Fame Banquet – he did an amazing job telling stories and announcing the inductees.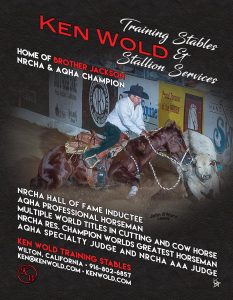 All in all, Ken had an amazing 2018 in the show pen winning over $80,000.00!
One special win that meant a lot to Ken this year was winning a go round with Pierce at the Oakdale 10 Steer Roping. Winning the go round was special – but winning with your son – priceless!!
After spending 3 weeks in Fort Worth TX we had to race home to CA so that Ken and Pierce could drive to Reno, NV to attend the ACTRA National Finals Team Roping.
Pierce has kept Ken and I extremely busy this year and has put a lot of miles on both our pickups. Pierce is rodeoing, roping, and showing cow horses full time! Thank goodness for my parents who keep Pierce on the road when Kenny and I are working. If a kid ever had "the year of his life" – 2018 was Pierce's!!
Pierce turned 15 in May and stands nearly 6'4. Pierce got a "dream come true" this year when he paired up to rope with his hero Junior Nogueria (World Champion Heeler) at the Broc Cresta Memorial Team roping. Pierce and Junior ended up placing 3rd winning over $2,000.00. But just the honor and thrill to turn steers for your hero – this was a dream for Pierce.
Pierce had a great year in High School Rodeo. He made the State Finals in Team Roping, Reined Cow Horse and Cutting. Pierce won Rookie of the Year for Challenge of Champions, CHSRA District 3 and for the entire state of California. Pierce also won Reined Cow Horse Champion for both Challenge of Champions and for the State of California.
Pierce qualified for the Nationals High School Finals Rodeo in two events, Cutting and Reined Cow Horse. Ken, Pierce and I loaded the horses and drove to Rock Springs WY – along with Grandma and Grandpa – who attended every rodeo and horse show Pierce competed in this year. The National finals was an incredible experience not only for Pierce but for us too. Pierce ended up 6th place in the World Finals in the Reined Cow Horse. Pierce decided to step up his showing this year and entered up in the Non-Pro at a few of the National Reined Cow Horse Major events. Pierce was very success and ended up winning over $10,000,00 showing Cow Horses – we are so proud of the horseman he is becoming.
Pierce ended up winning a National Title with his high school rodeo partner, Gavin Wheatley. The boys won over $12,000.00, two saddles, hats, ropes, feed supplements and custom buckles. What a year it was. On top of that, Pierce finished his 4th year of Catechism and was Confirmed at St. Peter's Lutheran Church in late April. For those of you who have been through this religious instruction you understand the time and commitment it takes from not only the student but parents as well. We are proud of his devotion and commitment to his walk with Christ and trust he continues to put God first in all he does.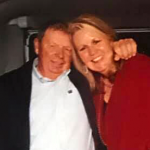 As for me, I took a break from showing this year as I have been very involved in the District High School Rodeo as Treasurer and a State director for CHSRA for the Reined Cow Horse. I still manage the great stallion, Brother Jackson and feel honored for the privilege. His breeding season was very busy in 2018. I am excited to have one of his offspring to show at the 2019 futurities.