2018 Reno Snaffle Bit Futurity Non-Pro Intermediate Champions Kathy Wilson and Ima Prizcee Hickory
Posted on September 15, 2018 by Molly Montag

Veteran non-pro Kathy Wilson knew Ima Prizcee Hickory was a cow horse for her as soon as she saw a sale video of him loping.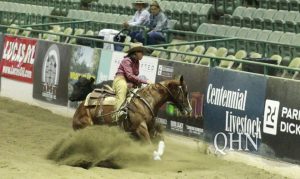 "He's got great arena presence," said Wilson, of Clarksburg, California. "It really helps you tremendously if your horse catches the judge's eye when you step in."
The sorrel gelding by Cee Mr Hickory caught their eye and earned their good marks in this year's Reno Snaffle Bit Futurity, where he and Wilson won the Non-Pro Intermediate Championship. Their composite of 640 (212 herd/ 214 rein/ 214 cow) also earned them third place in the Non-Pro during the event held Friday, Sept. 14 at the Reno-Sparks Livestock Events Center in Reno, Nevada.
Wilson was pleased with the gelding's progression. He entered the Reno Snaffle Bit Futurity after a solid run at last month's National Stock Horse Association (NSHA) Futurity in Las Vegas, Nevada. They placed third in the Non-Pro Intermediate at that event, and were sixth in the Non-Pro.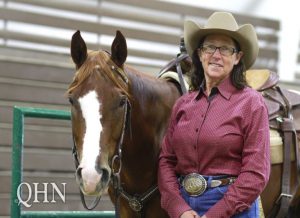 "Prizcee's" strong efforts, and the way he is advancing in his training, have Wilson ready to take the next step at the National Reined Cow Horse Association (NRCHA) Snaffle Bit Futurity in Fort Worth, Texas.
"The horse is just getting better. I'm going to Texas," said Wilson, who often trains in Wilton, California, with Ken Wold. "He was good in Las Vegas and better here, and I'm kind of excited to go to Texas."
Wilson, who estimates her first show was the 1977 NRCHA Snaffle Bit Futurity, knows the show will be a tough test for the young horse.
"If I could just pick up some checks I'll be happy. These guys have just gotten so much better over the years," said Wilson, who has a lifetime Equi-Stat record of more than $207,000. "It used to be you just don't make any mistakes [and] you're doing really well. Now, you have to make no mistakes and you have to be really good."
The Reno Snaffle Bit Futurity Non-Pro Intermediate win and placing in the Non-Pro earned $7,100 for Ima Prizcee Hickory, who is out of the mare Nu Prize (By Smokums Prize).
Two horse-and-rider teams marked a composite of 633 to share the Reno Snaffle Bit Futurity Non-Pro Intermediate Co-Reserve Championship: Carmen Buckingham and Cat at Heart (216 herd/215 rein/202 cow) and Vanessa Lawrence and Nu Red Diamond (211 herd/215 rein/207 cow). They each earned $3,800.