Real Smooth Liz Thrills Connections With NSHA Futurity Win
Posted on August 27, 2018 by Molly Montag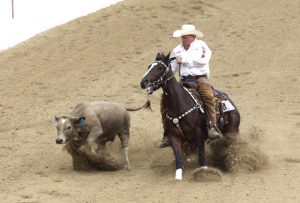 When Ken Wold decided to geld his family's versatile bridle horse, Real Smooth Cat, it wasn't because the trainer didn't think a lot of the stallion. It just made sense given the situation. Then Wold went and won last weekend's National Stock Horse Association (NSHA) Futurity Intermediate aboard the stallion's daughter, Real Smooth Liz.
Any remorse the Californian might have felt was tempered by the fact he has a reserve of Real Smooth Cat's semen. But, after the performance Real Smooth Liz gave on Sunday, Aug. 26, in Las Vegas, Nevada, Wold still couldn't help but wonder.
"It just financially wasn't feasible for us to really promote him and [the other farm stallion] Brother Jackson, but he's a wonderful horse and I'm really proud of him," he said. "This is really his first colt crop…And so, I might have made a mistake by cutting him."
Wold, of Wilton, California, was tickled with Real Smooth Liz, who used a 221.5-point fence run – co-third highest of the competition – to jump from seventh to first in the Intermediate Open standings. They finished with a composite of 651.5 (212 herd/218 rein/221.5), earning $14,285 for owner Kelly Cobb, of Reno, Nevada.
"She has just been the funnest thing to train. She's like riding a little go-cart," Wold said. "She gets there, quick footed, extremely fast, but real cowy [and] just easy and kind to be around."
The plan is for Real Smooth Liz to compete at the National Reined Cow Horse Association (NRCHA) Snaffle Bit Futurity in Fort Worth. Wold can't wait.
"She's probably as fast a horse as I've ever rode," Wold said. "Not very big, but you can run up to a cow and if you want to go a little bit faster…Zoom, she's gone!"
Real Smooth Liz is another money earner out of the mare Turn Liz Loose, a daughter of Doc's Hickory owned by the Wolds that has produced 10 performers of more than $162,241, according to Equi-Stat.
As for the Real Smooth Liz's sire, Real Smooth Cat is still owned by the Wolds and has been as busy as ever since his gelding. Ken's wife, Ramona, rode him the Non-Pro Bridle Spectacular at the NSHA Futurity. Their son, Pierce, won the reined cow horse title with him at the California High School Rodeo State Finals.
"We needed a horse for Pierce to show and I just won a 150-team team roping on him last weekend," Wold said. "He's our family horse and we'll probably never get rid of him."
courtesy of Quarter Horse News. Posted on August 27, 2018 by Molly Montag